Case Study
Balfour Kilpatrick for BAA
Control system for drainage of Personal Rapid Transport tunnels at Heathrow Terminal 5
Overview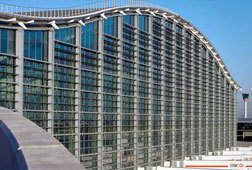 Heathrow Terminal 5 is designed to handle 35 million passengers a year, keeping them moving is the worlds first 'personal rapid transit system' that connects the main terminal to its two satellite buildings, car parks and rail links.
The driverless vehicles operate largely underground running on concrete guideways; in order to maintain a continuous service delivering passengers to the three concourses, the tunnels need to be kept dry at all times.
GPS was selected by main contractor Balfour Kilpatrick because of its experience in pumping control systems for the water industry, and its ability to produce a rugged reliable product.
Requirement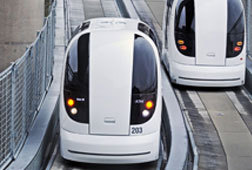 The reliability of the PRTS service, comprising a fleet of 21 battery powered vehicles that run on rubber tyres, depends on the condition of the guideways, so a pumping drainage system is required to ensure a permanently dry surface in the tunnels, along with an automated system to operate fire shutter doors inside the tunnels.
Solution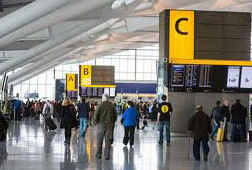 Balfour Kilpatrick awarded GPS a sub-contract to design, manufacture and commission three MCCs to control a pumped drainage system for the tunnels within each terminal building; and four control panels to control the fire shutter doors.
Each MCC is supplied by two sets of mains arranged for automatic changeover, so in the event of failure by one set, the other switches in automatically; and each one controls and monitors 22 pumps arranged as 11 pairs in a duty standby configuration.
Results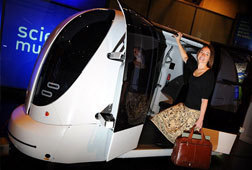 The service has not been interrupted by water on the guideways since inception, BAA can take for granted that the tunnels will remain dry, and that in the event of a fire the shutter doors will operate rapidly and automatically. While the control system is a very small part of the Terminal infrastructure, it is crucial to the PRT System and the movement of millions of passengers each year.
Summary
Industry Sector - Transport
Customer – BAA: British Airports Authority
Main contractor – Balfour Kilpatrick
Project scope – Control system for drainage of Personal Rapid Transport System tunnels at Heathrow Terminal 5
Contract - £150,000; 18 month programme; competitive tender
Winning criteria – Water experience and high reliability product design
Product delivery – Delivered 3 MCCs and 4 control panels
Project delivery - Completed on time to budget