Case Study
Dwr Cymru Welsh Water
Control system for Dissolved Air Flotation plant at Felindre water treatment works
Overview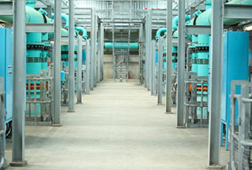 Dwr Cymru Welsh Water supplies over 900 million litres of water to over three million people every day.
To meet regulatory standards set by the Drinking Water Inspectorate the company commissioned a £21 million improvement scheme at its largest water treatment works including the installation of a Dissolved Air Flotation plant.
GPS was chosen to supply the control systems for the new plant, and upgrades to existing plants, based on a cost-effective technical solution and its ability to guarantee the continuity of the process throughout the installation and changeover.
Requirement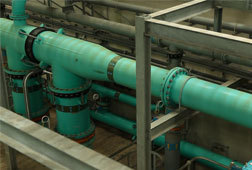 Supplying the Swansea area the Felindre plant treats 40 million litres of water a day from local reservoirs and rivers. The main focus of the DWI upgrade was the installation of a Counter Current Dissolved Air Floatation plant to remove a higher level of contaminates and suspended matter from raw water.
As well as the control requirements of the new plant, adding a large scale filtration process created additional requirements for control systems to manage the increased power needed to run the new plant and the increased volume of waste it generated; the full scope of work included
COCODAF plant: MCC
11kV transformers: LV Switchboard
Sludge treatment plant: MCC
Wash water recovery plant: MCC
Chemical treatment plant: MCC
Filtration process: ICA
Control room: PLC and SCADA
Solution
GPS provided a networked solution based around the main MCC serving the DAF plant, and its interaction with the ancillary plant systems.
The main MCC, a 20 metre Form 4 construction, is based on a PLC system networked via a fibre optic link to the ancillary systems, and fed back to an Intouch SCADA system in the main control room, and replicated in the DAF control room.
Beyond the technical scope, the major challenge was the need to maintain the water supply and quality standards throughout the installation.
GPS won the £1.1 million contract in a competitive tender and stakeholder selection process based on case evidence to support its technical proposal and a robust changeover methodology for a stepped transfer to bring the new plant online.
Results
The changeover was achieved with no interruption to water supply or plant operations, and the extended scope effectively delivered a fully modernised and fully automated works, compliant with DWI standards.
The project was completed on time and within the budget Welsh Water had set for the project. GPS also established strong collaborative relationships with the main civil contractors including Laing O'Rourke, Black & Veach and cost consultant KBS Chandler to deliver the scheme.
Summary
Industry Sector - Water
Customer – Dwr Cymru Welsh Water
Project scope – Control system for Dissolved Air Flotation plant at Felindre water treatment works
Contract - £1.1 million; 18 month project; competitive tender and stakeholder selection process
Winning criteria – Technical competency and continuity solution
Product delivery - Delivered main MCC, ancillary systems and software
Project delivery - Completed on time to budget