Products & Services
G-Flex Modular MCC
When technology or user requirements change - so does G-Flex
Overview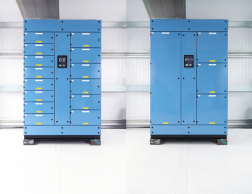 G-Flex is a modular MCC that provides an efficient solution for design and through-life equipment changes.
Its flexible internal structure can be rapidly reconfigured allowing functional units to be modified any number of times over its lifetime.
Design and specification changes can be accommodated during build, equipment changes during operation, improving flexibility and asset management for process operators.
G-Flex provides an off the shelf solution for a broad cross section of Form 4 motor control requirements, and is available for the same price as fixed pattern steelwork.
Adjustable internal layout – for maximum flexibility

Welded external structure – strength of bespoke construction

In-service modification – with no cutting, grinding, welding or repainting

Available in 600mm (depth), 800mm, 900mm and 1100mm standard units for current ratings up to 6300A

Front and rear access versions

Standard module sizes - 225mm and 300mm

Reusable enclosure – 90% of steel remains unaltered

Extended operational life – 50% or 10 years extra life
Functional unit changeover
Functional units can be easily changed, here two DOL starters units are reconfigured to a single VSD unit simply by removing the internal section divider and changing the door.