Our community
Respect for People and the Environment
Our Commitment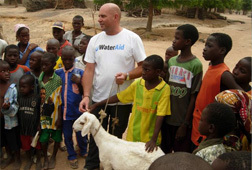 GPS supports WaterAid projcts in Africa
As a business, our first commitment is to our people, to provide a safe and well manged working environment.
We work hard to reduce our environmental impact by reducing consumption and waste, particularly energy and materials, as well as designing new products with carbon saving in mind.
And we like to give back where we can; our involvement in the water industry showed just what life is really like in places without clean drinking water and sanitation, so it was an easy choice to support WaterAid. A number of GPS people have now been to Africa to see the projects that have been funded, and see the difference it makes.
Values in action
Management of safety health wellbeing environment and quality to certified standards
Commitment to reducing our carbon footprint
Contributing to worthwhile causes at the heart of our business