Case Study
Strachan & Henshaw for British Nuclear Fuels
Control system for remote handling of Intermediate Level Waste
Overview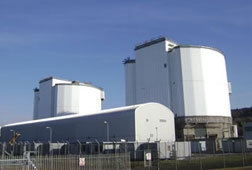 Britain's first generation of nuclear power stations were constructed between 1956 and 1971, and are now being decommissioned.
Unlike modern reactors they were not designed with decommissioning in mind, so complex procedures and methods are required to shut them down and make them safe, including remote handling techniques for the treatment and long term storage of nuclear wastes.
GPS was chosen to supply high integrity control systems for a remotely operated crane to move containers of Intermediate Level Waste within a specially designed shielded vault at Hunterston A in Scotland.
Requirement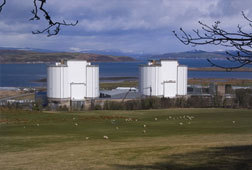 The central requirement of the ILW storage process is the ability to move and stack containers of encapsulated waste in a recorded position within the vault, and periodically retrieve them for inspection.
The control system is required to operate the remote crane and CCTV cameras as well as the opening and closing of the 16 ton vault door, and the automatic recovery function that returns the crane to the inspection cell in the event of a fault warning.
With no margin for error, GPS was selected for its experience of safety critical environments, including previous nuclear projects, and the reliability case for its design, given that it may have to function for up to 100 years.
Solution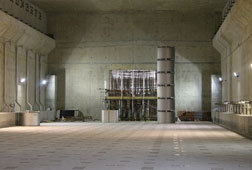 To ensure safety and long term reliability, the system was designed with high levels of segregation and redundancy, plus validation and interlocking processes; and premium quality component specifications.
The system comprised an MCC, control panels and control desk with mechanical and electrical interlocks to prevent unauthorized access and a validation process to ensure that every step complies with safety protocols, for example a 'Go Forward' command to the crane also validates the position of the door, and cannot proceed unless it is in the right position.
Results
GPS developed a high spec high integrity product that met all the safety and reliability criteria for a task that may last a century; and delivered the project on time and on budget.
Summary
Industry Sector - Energy
Customer – Stachan & Henshaw for British Nuclear Fuels Plc
Project scope – Remote crane control system for ILW waste store at Hunterston A Magnox Power Station
Contract - £150,000; 6 month project; competitive tender
Winning criteria – Experience and high reliability product design
Product delivery – Delivered MCC, control panels and control desk
Project delivery - Completed on time to budget